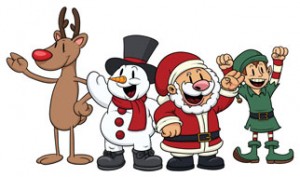 The 2016 parade will take place on Friday December 9. Registration will begin at 5:00pm at the North Wildwood Recreation Center (10th and Central Avenues). Lineup will begin at 5:30pm and the parade will start promptly at 6:00pm. The rain date will be Sunday December 11. Should the parade be postponed due to rain, the start time will be at 5:00pm (4:30pm lineup 4:00pm registration). If the weather is uncertain, tune in to 98.7 the Coast or visit this website for confirmation of whether or not the parade is rescheduled.
The parade starts at 16th Avenue in North Wildwood and heads south along Central Avenue and Pacific Avenue through the Holly Beach Station Mall until Heather Avenue (Crest Pier) in Wildwood Crest. It then heads east towards Ocean Avenue and back north to end at the Wildwoods Convention Center where the awards ceremony will be held, immediately following the Tree Lighting Ceremony.
Trophies will be awarded to the following categories: Commercial, Community Service, Marching Bands and Public Service, Individual/Small Group.
To register your float, truck, car or other decorated vehicle for the parade, click here.
To view the parade map, click here.
To view a list of winners from the last parade, click here.